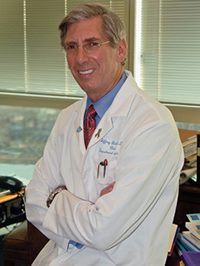 "The great thing in the world is not so much where we stand, as in what direction we are moving." — Oliver Wendell Holmes —
Columbia University Department of Psychiatry, New York State Psychiatric Institute, and the Psychiatric Services at NewYork-Presbyterian Hospital form an extraordinary convergence of scientific expertise, clinical talent, and technological resources.
Already, we are ranked among the top five psychiatric programs in the nation, and indeed the world, by virtually every measuring organization. Ultimately, however, this program should be undisputed as the leading Department of Psychiatry in the world, establishing new paradigms in academic psychiatry through psychiatric research, clinical care, policy, education and training.
I am proud to report that by all measures, we have made great progress toward that vision. We have added new divisions, which have epitomize the philosophy of our program in psychiatry: a tireless, pioneering exploration of the newest scientific possibilities in psychiatric care, combined with a scrupulous commitment to the well-being of our patients and their needs and rights as individuals.
In addition to these new programs, a host of new faculty members, many with world-class achievements to their name, join an already stellar faculty comprised of award winning scientists and clinicians. We have continued to make our mark on the field with seminal publications, landmark clinical trials, and research findings that have changed the way we think about everything from the process of fear to the genetic and environmental underpinnings of depression.
The changes we have made and the progress we have achieved, take place at a time of great change in medical science. Unprecedented advances in our understanding of the mind, the brain, and behavior bring with them previously undreamed-of possibilities for treatment and even cure of some of the most complex psychiatric disorders. Yet these advances occur in a turbulent environment in which NIH funding levels are stagnant, health care coverage is becoming more and more precarious and, instead of pursuing revolutionary scientific advances, industry is pressured to put its resources into incremental "me too" treatments that are safer for the bottom line.
In such times, it will be ever more challenging to maintain the status quo, much less achieve the revolutionary advances we seek. But it is not hard to achieve great things when the conditions are ideal. The mark of a truly great institution is its ability to reach new heights even at the most difficult of times. That is the kind of institution that we must and will be. I am delighted and awed at the accomplishments we have to recount – and I am already considering what we will do in the coming years to build upon them.
Jeffrey Lieberman, M.D.