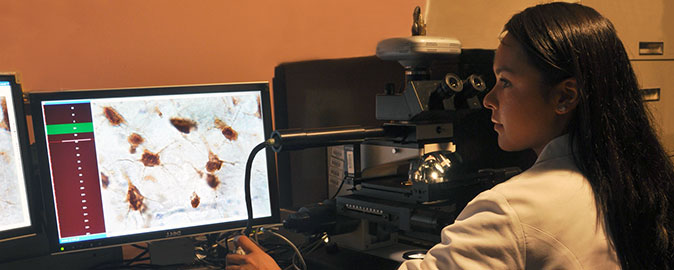 Faculty members of the Columbia Department of Psychiatry run a wide variety of Research Laboratories. Columbia Psychiatry faculty members are recognized as world leaders in the neurosciences and related disciplines, and have made major advances in understanding the biology of the mind. Research in these laboratories range from basic biological sciences to epidemiological, psychometric, neuroimaging and other areas. Many laboratories enroll people with psychiatric diagnoses and healthy controls to study psychiatric disorders using cutting edge technologies such as MRI and PET scanning.

The Neural Circuits Lab investigates the neural circuitry underlying psychiatric disorders by recording and manipulating neural activity in mouse models.

Schizophrenia is a debilitating disease that is characterized by positive, negative, and cognitive symptoms. Understanding the cognitive symptoms in molecular terms is central for the study of schizophrenia.

Our research focuses on understanding the neurodevelopmental trajectories of psychiatric disorders and symptoms through the use of various magnetic resonance imaging (MRI) techniques in cross-sectional and longitudinal studies of healthy and ill children, adolescents, and adults.

Our laboratory uses multimodal magnetic resonance imaging (MRI) to study the organization and function of neural circuits underlying symptoms seen in a range of psychiatric disorders affecting children and adolescents.

Our group is dedicated to helping children with autism spectrum disorder or obsessive compulsive disorder and their families.