Tamara Bendahan, MD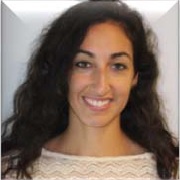 My name is Tamara Bendahan, and I'm a PGY-1. This year we have a mix of 4 months of medicine, 1 month of emergency medicine, 2 months of neurology and 5 months of psychiatry rotations. Some of these rotations are child psychiatry, general medicine wards, neurology consults, addiction psychiatry, and outpatient medicine.
I am currently working on an inpatient eating disorders unit called 4-Center. My hours are usually from 8:30 am to 5 pm. On a typical day, I wake up at 8 am, eat breakfast, and walk over to the hospital which is just a few blocks away since I live in hospital housing. The work day starts with morning report from the nursing staff about events overnight. Over the next few hours, I will see each of my patients and use a combination of medication management, supportive psychotherapy, and CBT in working with my patients.
The psychotherapy supervision and teaching is one of the best aspects of working on 4-Center. Each week, Dr. David Lindy, an analytically trained psychiatrist, interviews a patient and demonstrates a psychodynamic approach to talking with patients. Additionally, Dr. Michael Devlin, a psychiatrist who specializes in teaching CBT, works with the residents to teach us how to tailor CBT treatments to patients with eating disorders.
There are usually medical students on the unit which gives me a chance to teach and work together with the students. We are welcome to attend groups and eat lunch with the patients each day. During the afternoon, I finish up my notes and head home for the day.
I grew up in San Jose, California and had never been to New York City for more than a few days. Thus, I almost daily take the opportunity after work and during the weekends to explore. Being someone who loves the outdoors I've taken several walks and bike rides through Central Park and gone to a few outdoor concerts and performances. I'm also a big fan of dancing and have gone salsa dancing at the "Copa" and explored the nightlife downtown. Just like many of my co-interns, I have sampled more food than I ever imagined possible. Overall, I can't express how happy I am to be a psychiatry resident at not only a great program but one in such an amazing city.
---
John Mahlstedt, MD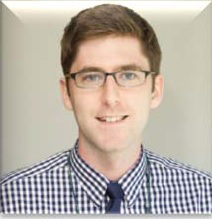 My name is John Mahlstedt, and I'm a PGY-2 resident. Our second year gives us experience in psychiatry in almost every setting. We rotate through everything from consult-liaison, to the Comprehensive Psychiatric Emergency Program (CPEP), to inpatient psychiatric units to the pediatric emergency room, and much more.
Currently, I'm on the Washington Heights Community Service Unit, an inpatient psychiatric unit, treating patients mostly from northern Manhattan. On a typical day, I'll wake up around 7am and give myself plenty of time to enjoy my coffee and breakfast while I read the news before heading to work. The day officially starts at 8:40 am, but I like to show up around 8:00am to get myself organized for the day, review notes or follow up with patients before morning report. At 8:40am the unit's staff gathers to review any ongoing and overnight issues with patients and the milieu. Afterwards, we meet with our attendings as a team and review each patient's plan. I spend the rest of the morning seeing patients, adjusting medications, teaching medical students, working on notes, and so on. Our residency, and this unit in particular, does an excellent job of balancing autonomy and supervision, and as a result I'm learning a great deal from each patient.
Around noon, I leave the unit to meet my classmates for our protected didactics, and of course, to have lunch! Every day, for an hour, leaders in psychiatry teach us clinical topics in the area of their expertise. As a small group, we learn about everything from psychiatry and the law, to mood disorders, to psychopharmacology and much more. These lectures are interactive and we often have an engaging discussion tailored to our interests. After class, I return to the unit to follow up with any patients and any outstanding issues for the day.
My day typically ends at 5pm. I live in hospital housing, so it's a short walk home and I often have a full evening after work. I have time to exercise, make dinner, meet up with friends or read up on an area in psychiatry. I often use this time to work on residency related projects or attend residency events as well. We often have evening events to learn more about the fields in psychiatry and the exciting research happening at Columbia every day!
---
Qortni Lang, MD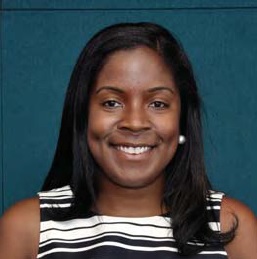 Hi! My name is Qortni Lang, and I am a PGY-3 resident. My day usually starts around 7:00am when I get up and take a quick run along the Hudson River or on the GW Bridge. I live in a hospital owned apartment building, which trims my commute down to an amazing few minutes. Living in hospital housing has been incredibly convenient and a number of my co-residents also live in Washington Heights which makes socializing a lot easier. I get to my office at the Psychiatric Institute Resident Clinic around 8:30am and start seeing patients.
I typically see a few patients in the morning and then pick up some lunch and head to our daily didactics at noon. After class, I head back to my office and see patients until about 5pm. One thing I love about the third year of residency is the balance between the increased independence of having my own office and still having access to great supervision. Most days I meet with at least one of my supervisors to discuss the patients I saw during the week.
As third year residents, we primarily work in the outpatient setting, which I have really been enjoying. Our clinic directors carefully choose our caseload, which ensures we see a variety of patients with different diagnoses. We also get training and practice in multiple modalities including cognitive behavioral therapy, psychodynamic therapy, supportive psychotherapy, and medication management, among others. Each PGY3 resident has 20% time (one elective day per week) to participate in research or additional clinical training in psychotherapy or psychopharmacology.
This year, as a part of the psychopharmacology track, I am working at the Columbia Psychological Services at the main Columbia University campus. This rotation is a great opportunity to learn about doing initial medication evaluations and short term treatment model in the campus setting. I'm very interested in child and adolescent psychiatry so it's also a great opportunity to work with the adolescent and young adult population. In addition, I spend one morning per week seeing outpatients at the Audubon Clinic, a community mental health clinic that uses a recovery-oriented approach to treat individuals with serious mental illness.
One of my favorite parts of living and working in New York City is the amazing theater scene. I try to see Broadway and off Broadway shows as much as I can. My co-residents and I also try to find time to explore the city together and learn about new neighborhoods. This year, I am looking forward to continuing to develop my skills as a therapist and clinician and hopefully finding time to run a half marathon!
---
Daniel Kimmel, MD, PhD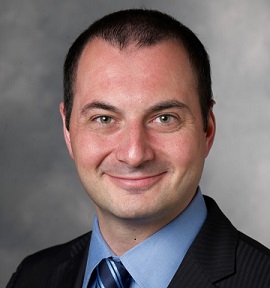 My name is Daniel Kimmel, and I'm a PGY-4 resident. As a PGY-4, we have an incredible amount of autonomy. We have up to 80% elective time and can choose between a variety of electives including clinical rotations as a junior attending, protected research time, administrative opportunities, or additional psychotherapy training, among others. For me, it's a time to consolidate the things I've learned about psychiatry, while integrating them with my other pursuits and transitioning to the next phase of my career." My day usually starts a little before 7am, when I wake up in my Upper West Side apartment, get ready, and read a bit of the newspaper. On my short walk to the subway, I say hello to the doormen (this is New York, after all) and grab a cup of coffee from my regular stand. After that, it all depends on the day…
Three days a week, I head to the gym and then take the subway to Columbia's Morningside campus. There I work in a cognitive neuroscience lab studying decision-making. Specifically, I examine how our mood interacts with our choices, and in turn how the outcome of those choices influences our mood. What's exciting for me is that the idea for the project came directly from the psychotherapy work I do with patients, where different people have very different feelings in response to similar experiences.
On the other two days, I head uptown to the medical campus, where I see patients in my office. Our outpatient residents' clinic goes above and beyond to ensure that we see a breadth of different problems and treatment approaches. Some patients I treat primarily with medications, while others I treat with psychotherapy, or a combination of both. Since my PhD provided years of basic training in neuroscience, I've relished the incredible training in psychotherapy we receive at Columbia. In addition to coursework, I'm thrilled to be one of this year's American Psychoanalytic Association Fellows, which provides additional mentorship and trips to the national meetings. Finally, the residency is very supportive of residents engaging in their own outside psychotherapy, which many residents do.
As the last thread of my fourth year curriculum, I'm working with our clinic director, Dr. Eileen Kavanagh, to develop a resident teaching component to the clinic. On about two mornings a month, I work as a "junior attending," supervising a PGY-3 resident in the evaluation of a new patient. This experience really challenges me to think both as a clinician and as a teacher.
Fortunately, this is New York, and the day's not over when the sun goes down! From Brooklyn to the Bronx, I love exploring the nooks and crannies of this amazing city—Downtown jazz clubs, Broadway shows, Midtown art exhibits, Uptown botanical gardens, Lower East Side restaurant hops, and bike rides through Central Park—there's never a dull moment. I just have to remember to go to sleep!